This Article will cover how to access your Learner's responses to your Tortal Course Assessments or SCORM Quizzes.
Once you Create your Tortal Course Assessment you can find the data from the completed Lessons by using our Interaction Data Reports.
---
1. Click on REPORTS tab in the Navbar.
This feature is only available by Special Permission. Contact your system administrator for Approval.
2. Under the Activity Reports tab -- Click on Create New Report
3. Select the Date Range of your Report
You may choose from the parameters here - for this example, we will use "All Dates"
4. Select the Users & Status for your Report
There are several options available to gather the Users you wish to Report on - visibility is based on the Groups & Users ASsigned to you.

For this example we will choose "All Users" and "Active" Status
5. You can choose to Include / Exclude Group Admins from your Report
This applies only if Groups are selected
They will be included for our example.
6. Select "interactions" from the Reports Data selector
Interactions lets us see the information received from a User during a Lesson.
7. Select how you want to find your Interaction Data
You can select "by Lesson" to choose individual Quiz/Assessment Lessons,
You may also Search "by Course Name", to get all Lessons with Interaction Data within the Selected Courses.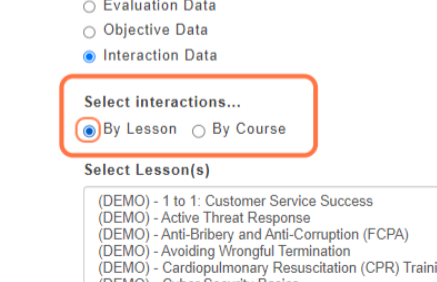 8. Select the Quiz/ Assessment Lessons to Report on
Hold Ctrl+Click to select Multiple Lessons
Hold Shift + Click To select a Group of Lessons
9. Select "Completed" from the Lesson Status
10. Save, Share, or Generate your Report
12. View Your Interaction Report
For Each user Selected in the Report you will be able to view the Lesson name and Its Course.
As well as the Questions/Answer information for each interaction.