There could be a number of reasons why you are unable to log into the Learning Management System: incorrect username, incorrect password, you do not have an active account, or you are not entering in the information correctly.
If you forgot your username and or password, you will need to reset your password using the retrieval link (pictured below). See article - Resetting your password.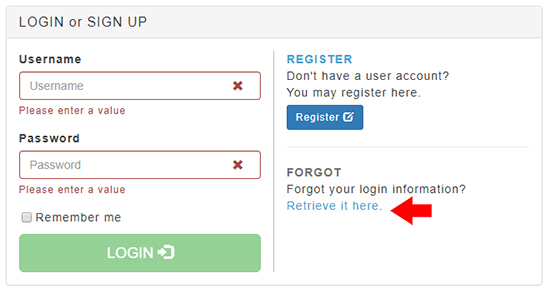 I Didn't Receive the Email
If you do not receive an email, check your SPAM and/or Junk folders. If you still do not see the email, tell the system administrator within your company. That information can be found within the footer of your LMS. It's possible that you have multiple accounts in the system using the same email address and if that's the case, you will not receive the email. Your system administrator will need to address this.
Case Sensitive
Login information is case sensitive, so make sure you are entering the information exactly as it should be. If you are experiencing trouble logging in with the information given in the email, try copying and pasting directly from the email to the login form.