This article explains the process of enabling and managing the image grid layout for the catalog and course listing. Access to this feature is only available to super administrators or users with added permissions.
How to Enable the Grid Layout
1. Select Build Course Catalog & Layout from the admin menu.
2. On the new page, select Configure Options, click the next button.
3. Toggle "Show Course Catalog in a grid format" to on as pictured below.
4. Click the Save button.

Additional Notes
When the grid format is turned on as described above, all catalogs and courses will automatically receive images that are randomly selected from a pool of stock images each time a page loads.
Once the feature is turned on as described above, you (system administrator) will need to log out and then back in to see the change. This only needs to be done once.
How to Change an Image for a Catalog and/or Course
This option is available for when you either add or edit a catalog or course. Please see related articles below on how to perform those functions.
Whether accessing any of the various pages mentioned above, you will see the layout below.
(Scroll down for descriptions of each numbered area.)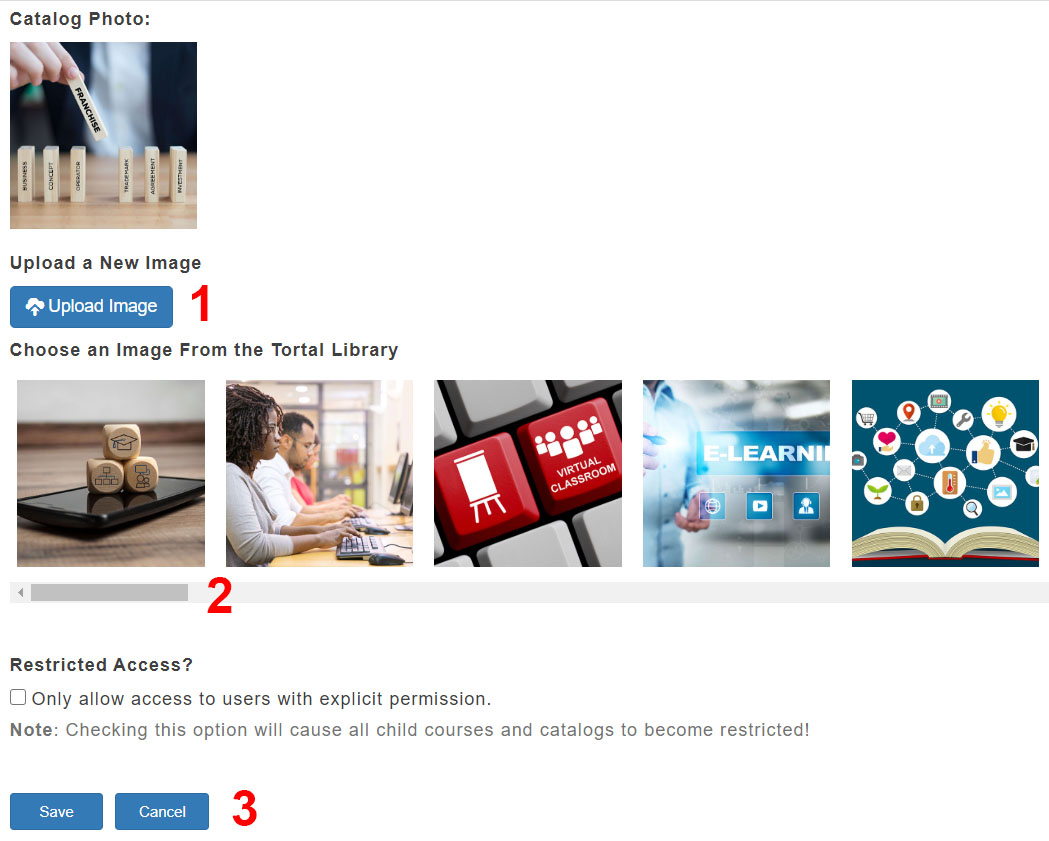 1. To upload your own image, click the blue "Upload Image" button and follow the process. Please see "Image Best Practices" section further down in this article for essential information on this process.
2. If you would like to use an image from our stock library, use the scroll bar to browse and select your desired image. Click the image you want to use.
3. When editing a catalog image, simply click the save button to save your selected image. When editing a course image, click the next button and follow through the process until you see the finish button. Click the finish to confirm your image change.
VERY IMPORTANT - IMAGE BEST PRACTICES
Recommended image dimensions are 370 pixels in width by 250 pixels in height.
Image file size cannot exceed 99 kb.
How to Decrease Image File Size
If you have your image cropped, but the file size is still too large visit TinyPng.com. This site will compress files for you to reduce their size. Once on the site, you'll see what's pictured below. Drag your image file into the box and you'll receive a download link to your newly compressed file, which may then be used for catalog and course images.