The Checklist is a powerful way to add tracking and accountability to your Courses.
Features like mandatory User submissions & uploads, makes it a breeze to translate your stepwise business processes into actionable training Courses.

Quick Links
The Checklist Learning Object
Part 1: How to Setup a Checklist Learning Object
1. Navigate to the Learning Objects page

From Navbar >> Admin >> Learning Objects

or Admin >> Content >> Learning Objects



Add a New Checklist Learning Object
From the Learning Objects page, Click the Add/Edit Checklist Button




Here you can Access previously created Checklists and create new ones.
To Create a new Checklist click


Enter the Name and Description of your Checklist. These fields are mandatory.



To Save and Exit click ,
To continue and edit your new Checklist, click


Part 2: How to Edit & Configure a Checklist Learning Object
Checklist Learning Objects contains Tasks, which Users must complete to pass the Lesson and move on in the Course. To Tasks may be configured with multiple options.

Add Tasks to your Checklist
By default each Checklist begins with a single Task to edit.
Enter the Task Name and Description into the Edit Task Window. (These fields are required.)


Additional Tasks may be added by clicking located beneath the last Task.


Save your work
Click at the bottom of the wizard.
Part 3: Configuring your Checklists Tasks
Each Task can be configured with several options, allowing for multiple ways of using the Checklist!
Default Tasks may be used with no configuration.
When viewed by the User, the Task will look like this.



Allow or Require Text Responses
Use the "Allow Text Responses" Radio buttons to select if your Task allows text feedback.

Text Responses can be Required by using the radio buttons under "Text Response Required".

When viewed by the User, it will look like this: ( Red Asterisk denotes Required Field)



Allow or Require Upload Responses
Using the "Allow Upload Responses" option, lets Users upload items to pass the Task.

Upload Responses can be required by using the "Upload Required" radio buttons.

When viewed by the User, it will look like this: ( Red Asterisk denotes Required Field)

Clicking on will bring up the Upload file modal. Drag and Drop, or connect to a 3rd party storage to upload files. Hovering over the icon will bring up the Upload parameters, listed below for reference.

Upload Limits

Once completed, Users may edit or delete their submission Uploads have a


Set Task to be Required to complete Checklist
Check the box below to require this task to be done to complete the Checklist Learning Object.
This will present a red "Required" notification below the check box.

Add a Due Date or a fixed number of Days to Complete the Task.
This is set from the date that the User is enrolled in the Course that includes the checklist.


This presents a due date beneath the Task Title

Part 4: How to Check your User's Submissions to a Checklist.
Reviewing your Users submitted data can be done easily form the Reporting Tab.

**Note: Users must have the Reporting Tool permissions given to their account to access the Reporting Tool.

Navigate to the reporting tool by clicking on in the Main Navbar.
Generate an Interaction type Report.


Select "by Lesson" or 'by Course" to locate your Checklist

Select your target Lesson or Course (Lesson Shown)

Select your Lesson Status/ Course Status



Optional - Share or Save report for future use



Click Generate



Viewing the Interaction Report
In the columns of this Report, You will see data pertaining to your User's completion of the Tasks in the selected Checklist Learning Objects.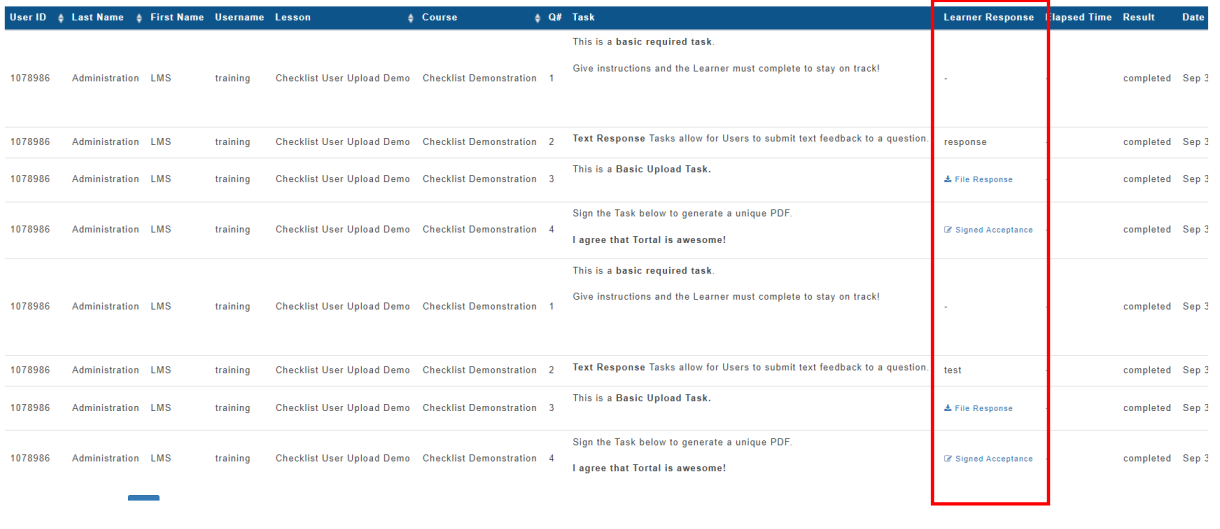 Find a link to your link your User's uploaded submissions in the Learner Responses Column,



Clicking the File Response will download that Users file submission.

Clicking Signed Acceptance will open a PDF Viewer modal, to view /download the Signed PDF

Related Information: