The Brand Concept Administrator is a User Account assigned to be a Manager of a Brand Concept Group.
This article will outline the fundamental features and limitation of the Brand Concept Admin Permissions Set.
What is a Brand Admin?
Brand Administrators are similar to System (Super) Administrators in a Single Brand LMS, with default Permissions to manage Content, Groups, Users, and Reporting features.
Brand Admin Permissions are limited in scope to the Brand Group(s), and Brand Location or Role Groups to which they are explicitly assigned to Manage, by the System Administrator.
Brand Admin Permissions.
Brand Administrator Permissions are similar to System Administrator permissions, only applied to a selection of Groups which comprise your Brand Concept.
By default, Brand Administrator Permissions set includes the abilities to add/edit/ and modify:
Catalog
Content
Users
Groups/ Group Administrators
Reports
Brand Administrators do not have access to:
The Complete Default set of Brand Administrator Permissions can be viewed below.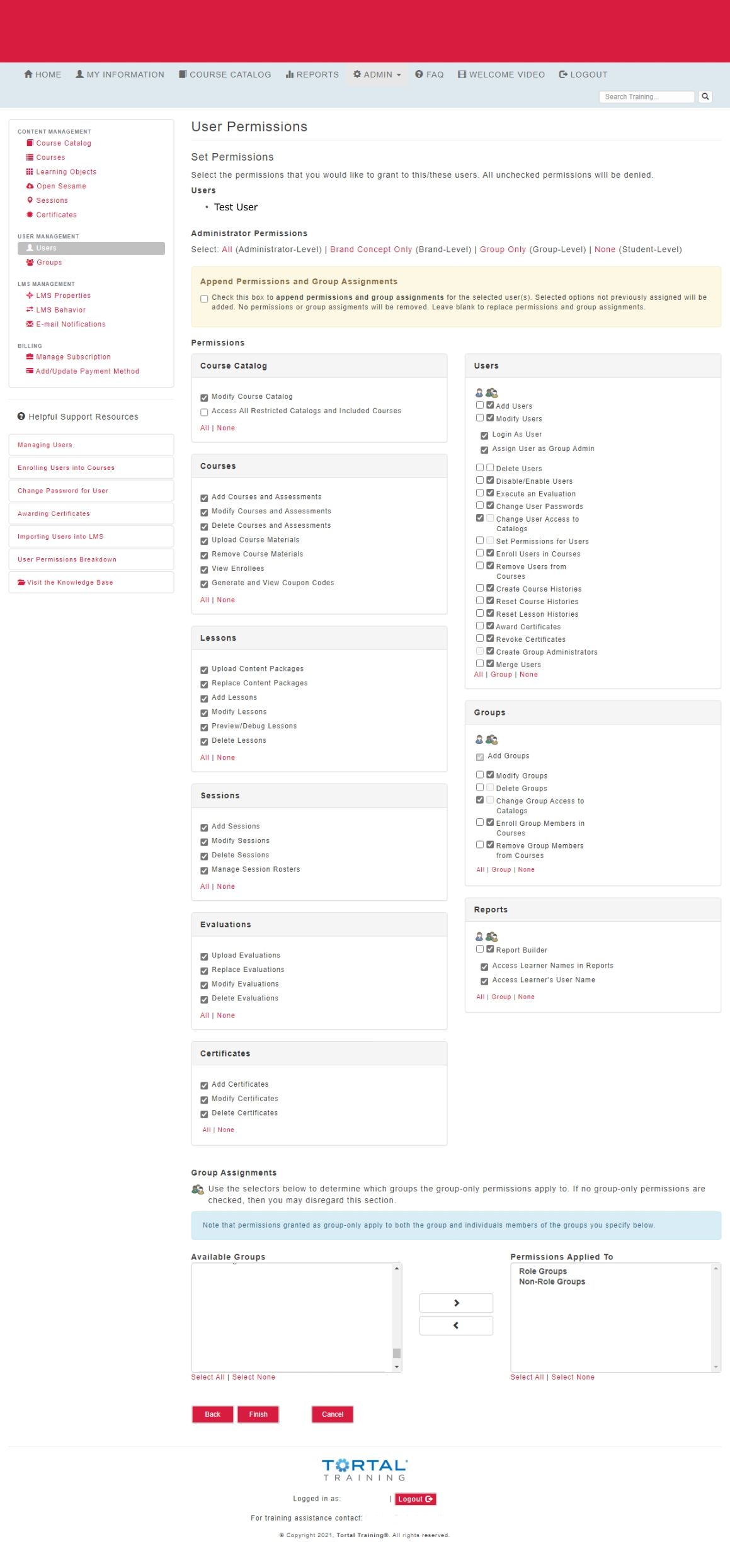 How to setup a new Brand Administrator.
There are two ways to setup a Brand Administrator Account, depending on your personal account Permissions
1. As a System Administrator
Locate the Manage User Permissions Wizard
Select the User Account
Select the Brand Concept Permissions
Use the Quick Set Link, or Manually adjust your permissions.
See the following article for more information around this feature.
Assign Groups to Manage
Use the Group Assignment Tool
2. As a Brand Administrator
Navigate to the Assign Group Administrator Wizard
Admin >> Groups >> Assign Group Administrators
Click Next,
Select your Group
Move the Groups you wish to assign Administrators to over into the right-hand column.
Click next.
Manage the Group's Administrators
Users in the right-hand column will be the roster of Administrators for the Group.
Finish to Save