The Tortal LMS My Enrollments Wiget is a simple, present, easy-to-understand tool for Users to manage their Course Enrollments. This guide will outline the basics of using and customizing this Widget.
The My Enrollments Widget
Where to find it
The My Enrollments Tool Appears by default on the My Information Page and the Training Catalog Page.

My Information Page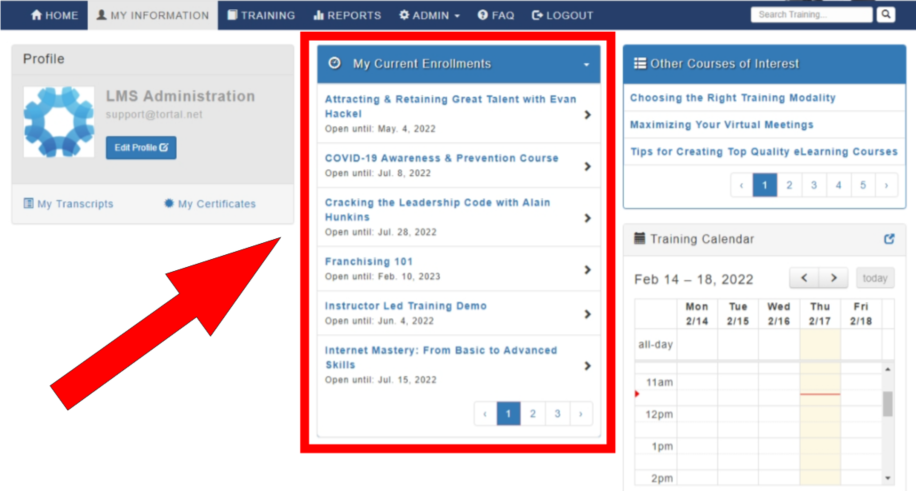 Training Page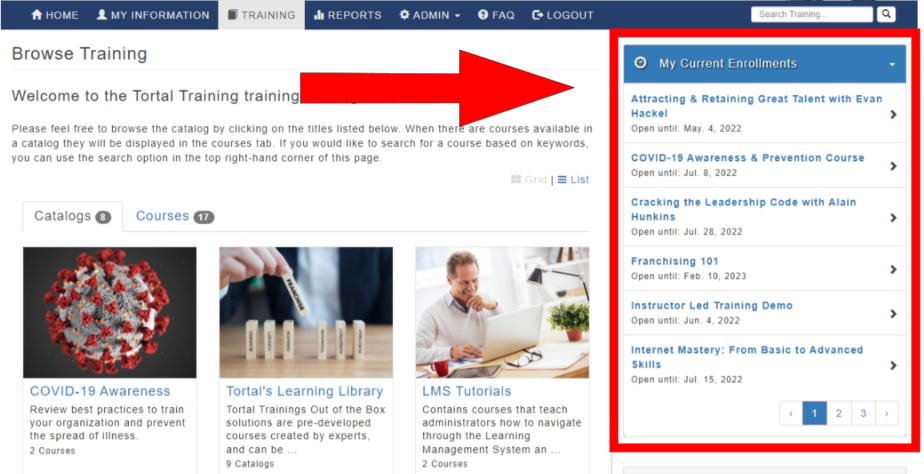 How to Use it
There are 2 versions of controls for this Tool to account for User preference
| | |
| --- | --- |
| Dropdown Control | Tabs Control |
To Switch Versions
Navigate to Admin >> LMS Behavior >> Options

NOTE: If you do not see the 'LMS Behavior" Options available on your Admin account, your organization's LMS may have a custom page in place. Please speak with your Organization's primary Tortal Account holder/Manager.



check / uncheck "Enable tabbed Enrollment Listing "

To view changes User's must clear their Browser Cache.

How to Customize the My Enrollments Tools
Color settings can be Customize using the Change Logo, Look & Feel Tools
Admin >> LMS Management >> Change Loigo, Look, and Feel

The Color of the Widget can be changed using the My Enrollments Panel Color Picker

Enrollment Listing Images
The Course Images attached to each Enrollment can be displayed in the Enrollment Listing Tool. Details & Instructions for managing Images on the tool can be found below.
Enabling Enrollment Listing Images
Turn the feature on using the LMS Behavior Settings

Admin >> LMS Management >> LMS Behavior


Ensure the toggle is UNCHECKED (Enabled by default, checking this will HIDE images)




Logout, and Log back in to view system changes.

This recycles the Organization settings / cookies to update them and show the images.
Default Images
The images presented follow the pattern below.
IF A COURSE IMAGE IS SET - that image will show everywhere this Course is shown.
IF NO IMAGE IS SET -

images will be randomly selected for each item

, from our catalog of hi-res e-learning images. This occurs with each page load/refresh,
Managing Course Images