If you no longer need a User Account in your system, you may easily delete it from the LMS.
This article outlines the steps to Delete a User.
Article Outline
***IMPORTANT NOTES
Deleting a User is permanent and will remove all Records related to that User.

Enrollments, Certificates, Groups, Saved Reports, etc.

Disabling a User preserves records, while removing User access.

allows the user account to be reactivated in the future if need be.
lowers active User counts for billing management.
More information
Permissions
Administrators must have the Delete User Permission will be allowed to use this LMS Tool.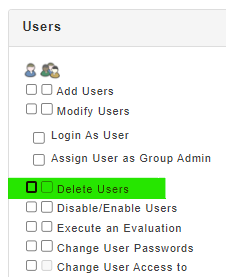 More information about setting Permissions can be explored here:
How to Delete a User
1. Locate the

Delete a User

Wizard
Admin >> Users >> Delete a User
2. Select the Account(s) to Delete
Select all Accounts to be deleted

Multi Select Options enabled
3. Confirm & Finish the Wizard to save the changes.
Click Finish to Confirm, & Delete the selected Accounts

This Operation is Permanent and deleted Accounts cannot be recovered.